About Me
Berlin-based systems theorist, artist and play designer.
My interests include systems theory, play, games, art and cybernetics. I create Playful AI and Imperfect VR. I received a Master-level degree at the University of Erlangen-Nuremberg (Diplom-Informatiker) and a practice-based Ph.D. from the School of Art, Design and Architecture at the University of Plymouth as a Marie Curie Fellow.
I have been a associate lecturer at Leuphana University Lüneburg, lecturer and Award Leader in Game Arts and Design at the University of Plymouth and a lecturer at Nanjing University of the Arts. I hold a Fellowhip of the Higher Education Academy (FHEA).
Besides that I have a couple of years digital agency experience and have worked and played in a wide range of environments, from large clients to fringe theatre. I catsit occasionally 😻.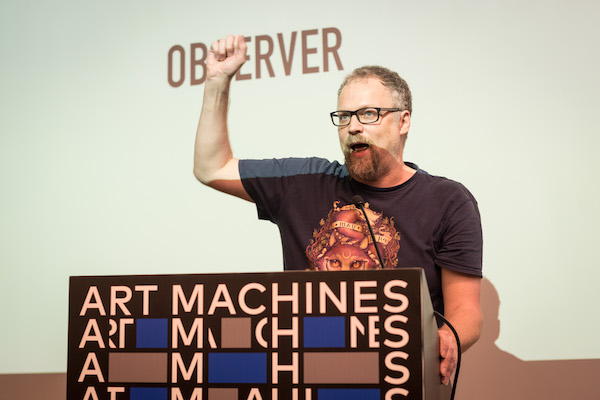 🔄 Systems Theory
I am actively engaged in artistic research into cybernetics, radical constructivism and systems theory.
🤖 AI / Robots
My work with AI focuses on communi-cation between humans and machines, a fascinating and important topic.
💻 Creative Coding
Creative Coding is an exciting mix of technology and art. I believe that everyone can (not: should) learn to code.
🖼 Art & NFTs
I like to play with the paradoxa, contradictions, strange loops, inherent in the art system. This includes NFTs.
🕹 Playful Interactions
My projects start from the premise that games, theatre and events are media and environments for play.
💜 Communication
Communication is at the of what I do: write, teach, talk, organze, workshop, discuss.
Essays
I am writing a series of essays to be published on Medium. Some of the material is brandnew, some drafts have been sitting on my desk for a while, and some of it has been published before, waiting to be re-edited and released. These essays feature topics such as AI, VR, art, systems or communication, discussed from a personal experience perspective. They will be available on my Medium page and later here as well. Contact me for additional publishing/syndication arrangements.
May 2022 (est.)
Planned: An essay on NFTs, stereotypical thinking and the art system. A bit of metaverse and web3 thrown in.
September 2022 (est.)
Planned: An essay on economics and communication.
January 2023 (est.)
Planned: An essay on how the Global Game Jam came to Germany. A personal recollection from 2009, in time with the GGJ 2022.
Selected Projects
I am constantly adding projects and I am also adding/updating high-res images and PDFs with more information about each project. Please contact me if you want to know more.
Selected Academic Publications
Some of my academic publications capturing thoughts about systems theory, artistic practice, play, AI and other stuff. Between 350 and 55000 words. More comprehensive selections on both Researchgate and Academia.edu.